Welcome to dockside igloo park
Dockside Igloo Park in Milford
Dockside brewery has a winter experience like no other. Get ready to explore ten individual custom igloo experiences at Docksides very own igloo park. Located in the waterfront outdoor Biergarten. Each week will we be releasing different experiences, stay tuned and follow us on social media.
ESKIMOS WANTED
Our mission at Dockside is to provide our guests with an enhanced customer experience every time they visit. Please feel free to take as many pictures as you like in and around your igloo.
Due to the demand and limited amount of igloos there is a mandatory waiver required to be signed upon arrival. Each igloo reservation has a 20% gratuity and itemized checks are prohibited. 9:29
Igloo Park Hours
Time: 4:30 - 7:30 (M,T,W)

Time: 12-3-6-9 (T,F,S)

12-3-6 (Sunday)
Use #docksideigloopark to be featured and win prizes.
Cheers!
Dockside Brewery
Reserve Now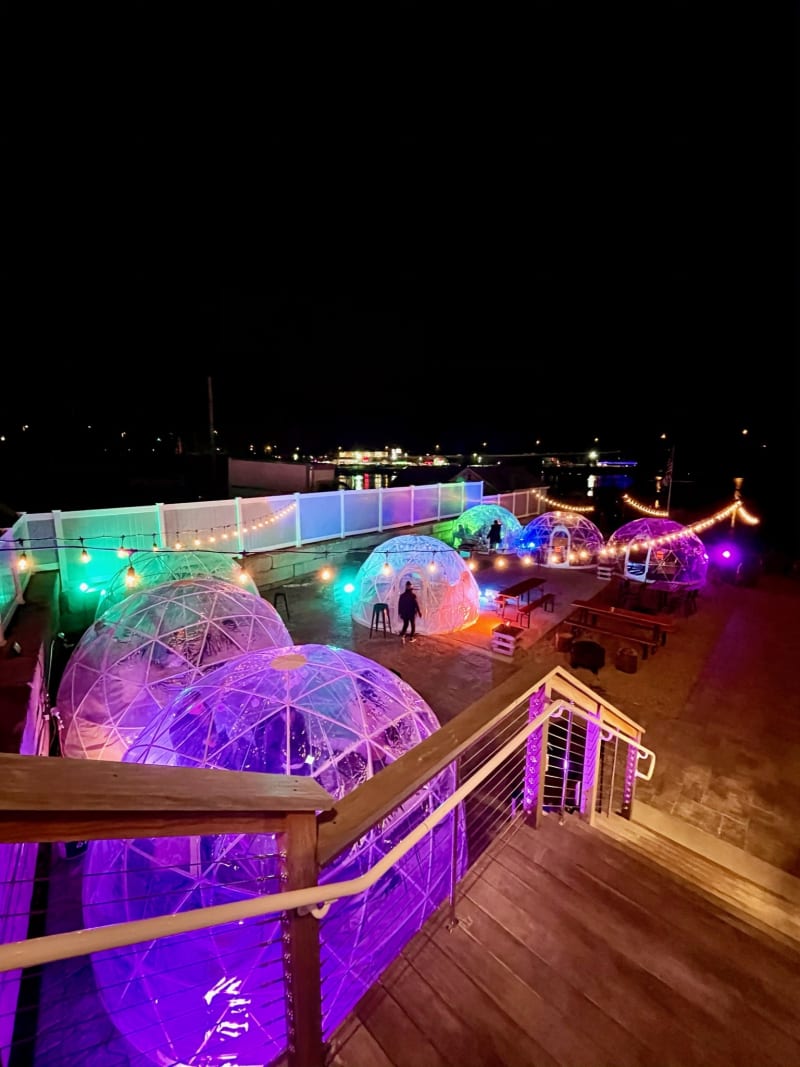 Welcome To The Jungle
Cue the music... and the monkeys. Take a walk on the wild side in your own miniature jungle, buried in the rainforest. You won't get tangled up in the vines, and our snakes don't bite. You will be sure to bond with our fuzzy and furry friends and love that they are always down to party in the light or night.
Man Cave
Need a break from the real world? That's why Man Caves were invented. Leave your worries behind and kick back with your bros, gals, and some brews. Drink on the 50-yard line and be a boss on your own leather couch in this igloo. Play drinking games, watch sports, and remember this, what happens in the cave stays in it. "Never rat on your friends, and always keep your mouth shut." -Jimmy Conway.
Dockside Of The Moon
Buckle up baby, if a Tesla can go to space, then so can you! Take a trip on this galactic voyage and gaze at the planets from your very own Igloo spaceship. Sit on glowing space station benches and stare at the stars while you and crew evade the galaxy in lightspeed with the ship's Alien Captain. He's a little angry you invaded his space, but don't worry, he warms up to you after a few brews.
Dockside Cabin
We've all dreamed of winter living in a log cabin in the woods, so grab your favorite sweater, blanket and get cozy by the fireplace. Relax on the couch, bust out a board game, and indulge in comfort food and craft beverages in the center of the Igloo park.
Home Sweet Home
Comfy seating and inviting cozy atmosphere. This igloo is your home away from home and seats 8 people.
Tom's Surprise Theme
Comfy seating and inviting cozy atmosphere. This igloo is your home away from home and seats 8 people.