Welcome to dockside igloo park
Dockside Igloo Park in Milford
Dockside brewery has a winter experience like no other. Get ready to explore ten individual custom igloo experiences at Docksides very own igloo park. Located in the waterfront outdoor Biergarten. Each week will we be releasing different experiences, stay tuned and follow us on social media.
Igloo reservations need to know:
Dockside Igloo park is an experience that is in high demand. Reservation availability goes live at midnight each day. Reservations sell out in seconds. Reservations are available Sunday through Wednesday at 12 PM, 5 PM and 8 PM and Thursday through Saturday 12 PM, 3 PM, 6 PM, and 9 PM There are no other times available to book an igloo and no exceptions.
Due to limited seating, sanitization, and increasingly high demand a $150.00 minimum spend is required for each igloo reservation.
All igloo reservations are limited to 2.5 hours to provide a safe and sanitized environment for our guests.
Not all igloos fit eight people. All igloos are first come, first serve, and finalized by the number of people in your party. No Igloo theme is guaranteed as there are many factors in a winter dining experience.
Themed igloos are designed to provide a unique experience. The igloo dining style in all igloos is more casual than traditional. Ice Castle is the only igloo that offers a more formal dining experience.
Due to Covid-19, we are limiting the number of physical menus handed out. Each igloo has an easy to scan QR code available for viewing the menu and includes beautiful images of menu items, beers, and drinks.
Igloos come equipped with up to two heaters, but we recommend you still dress for an outdoor climate. Please do not adjust heater settings or tamper with power. Ask your server for assistance or a manager for help.
Our designers and staff put a lot of time and effort into creating a fun igloo park atmosphere. Please be respectful of your igloo decor and theme; any damage caused during a visit will be subject to a credit card charge.
For safety, some decorations may be unsuitable for young children. Igloo lighting is limited. For clearer visibility of igloo elements, we suggest Igloo reservations that include children under the age of 13 are best at noon or 3:30 seating. No children may be in or around an igloo for any reason without a parent or guardian.
Our mission at Dockside is to provide our guests with an enhanced customer experience every time they visit. Please feel free to take as many pictures as you like in and around your igloo.
Use #docksideigloopark to be featured and win prizes.
Cheers!
Dockside Brewery
Reserve An Igloo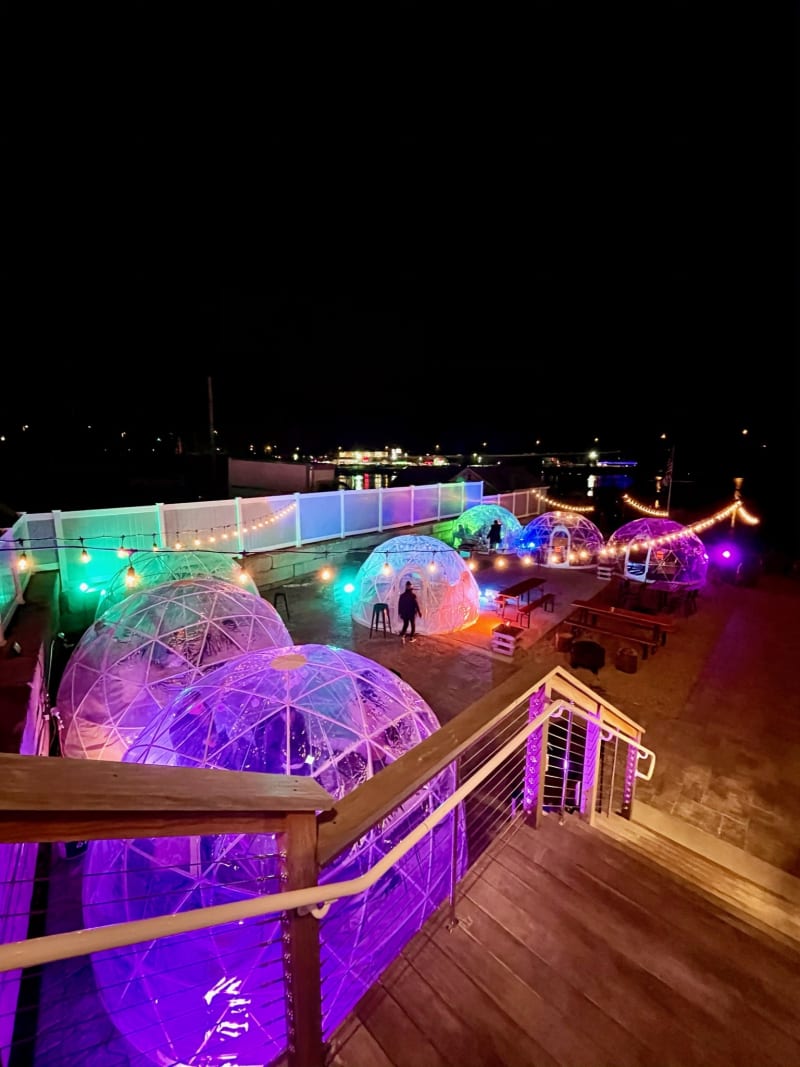 Shipwrecked
Ahoy, Matey! Legend has it, this ship washed ashore in the great storm of 2020 and was the first of what was to come at Dockside's Igloo park. Aye, filled with Captain Kid's and Captain Jack Sparrow's pirate booty and covered by palm trees and fishing nets, you'll be sure to enjoy the high seas. Arrgh, there is nothing but adventure aboard this vessel so seize the day with a first mate and crew, grab a pint, and go overboard with a view of the Marina. Yo-ho!
New England Vibes
Keep it easy and breezy in this simple igloo. Wrap yourself in a blanket, lay back in oversized Adirondack Chairs, and live the good life of the northeast. Tell stories, decompress, and create everlasting memories with those around you.
Man Cave
Need a break from the real world? That's why Man Caves were invented. Leave your worries behind and kick back with your bros, gals, and some brews. Drink on the 50-yard line and be a boss on your own leather couch in this igloo. Play drinking games, watch sports, and remember this, what happens in the cave stays in it. "Never rat on your friends, and always keep your mouth shut." -Jimmy Conway.
Dockside Cabin
We've all dreamed of winter living in a log cabin in the woods, so grab your favorite sweater, blanket and get cozy by the fireplace. Relax on the couch, bust out a board game, and indulge in comfort food and craft beverages in the center of the Igloo park.
In Da Club
Go Shorty; it's your birthday! We're all missing dressing up and going out to a rowdy bar or club in 2020 and now maybe even 2021. Dockside's In Da Club igloo is the perfect vibe for reliving those wild nights with sexy decor and a mirror ball setting the mood. Be sure your crew is on the guest list as this igloo is a fun party for 8 people. What happens in da club stays in da club.
Home Sweet Home
Comfy seating and inviting cozy atmosphere. This igloo is your home away from home and seats 8 people.