Dockside Igloo Park in Milford
Our mission at Dockside is to provide our guests with an enhanced customer experience every time they visit. Please feel free to take as many pictures as you like in and around your igloo.
Please feel free to share any pictures by using #docksideigloopark
Cheers!
Dockside Brewery
Book Now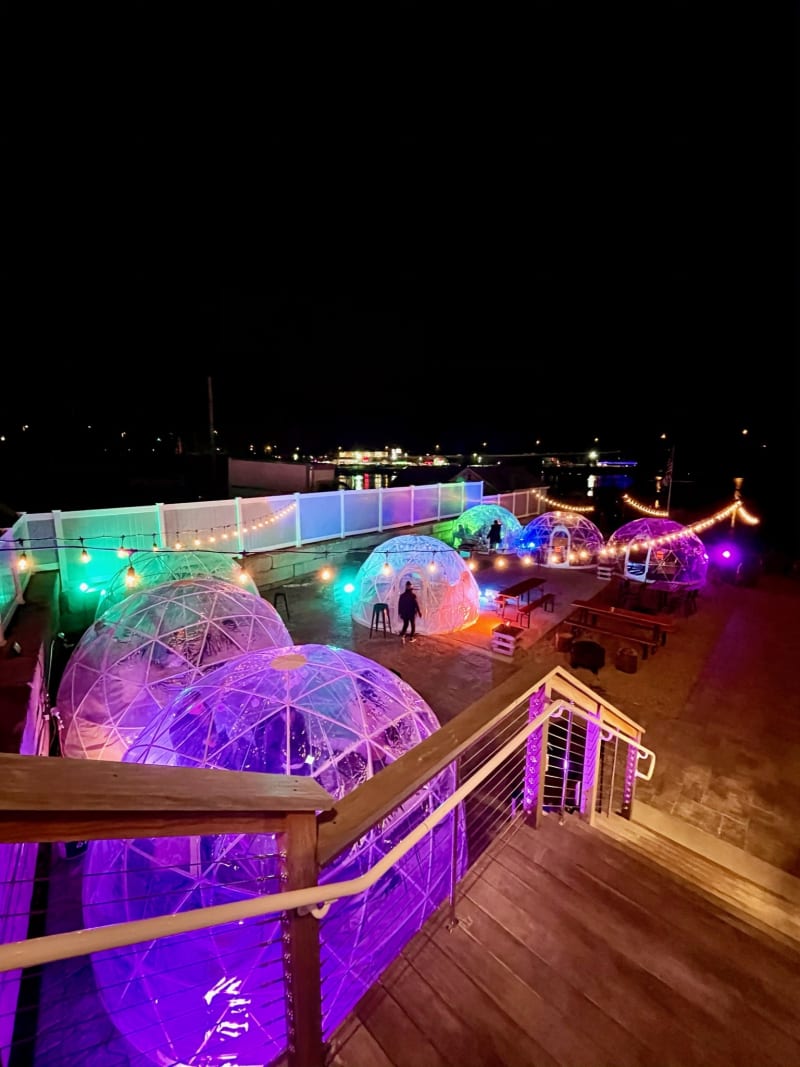 Information
Due to the demand and limited amount of igloos there is a mandatory waiver required to be signed upon arrival. Each igloo reservation has a 20% gratuity and itemized checks are prohibited.
A $150 minimum spend is required for each igloo reservation after 3p. All igloo reservations are limited to a firm 2.5 hour time limit from the start of reservation time to provide a safe and sanitized environment for our guests.
Our igloos are designed to provide a unique themed experience, the dining style is more casual than traditional.  None of them have a standard table and chair decor but rather a sofa set, arranged chairs or benches.
The igloos come equipped with two heaters but we still recommend you dress for an wintry outdoor climate. Six is the absolute max occupancy, if you add more than six then we remove a heater for the safety of our guests. Please do not adjust heater settings, tamper with power or rearrange furniture. Ask your server or manager for assistance if necessary.
Our designers and staff put a lot of thought and effort into creating a fun igloo atmosphere, please be respectful of your surroundings.
Cheers Eskimos
Dockside Brewery
Shipwrecked
Ahoy, Matey! Legend has it, this ship washed ashore in the great storm of 2020 and was the first of what was to come at Dockside's Igloo park. Aye, filled with Captain Kid's and Captain Jack Sparrow's pirate booty and covered by palm trees and fishing nets, you'll be sure to enjoy the high seas. Arrgh, there is nothing but adventure aboard this vessel so seize the day with a first mate and crew, grab a pint, and go overboard with a view of the Marina. Yo-ho!
Welcome To The Jungle
Cue the music... and the monkeys. Take a walk on the wild side in your own miniature jungle, buried in the rainforest. You won't get tangled up in the vines, and our snakes don't bite. You will be sure to bond with our fuzzy and furry friends and love that they are always down to party in the light or night.
In Da Club
Go Shorty; it's your birthday! We're all missing dressing up and going out to a rowdy bar or club in 2020 and now maybe even 2021. Dockside's In Da Club igloo is the perfect vibe for reliving those wild nights with sexy decor and a mirror ball setting the mood. Be sure your crew is on the guest list as this igloo is a fun party for 6 people. What happens in da club stays in da club.