TOUR THE VENUE
Capacity may be limited due to Covid-19. Please reach out to our events team for further information. No parties can be booked on any level other than "Grassy Knoll"
Situated on the banks of the Housatonic River, the beautiful waterfront views make Dockside Brewery the perfect place to sit back, relax, and enjoy a craft beer. From the lively taproom to our spacious Biergarten, we offer spaces for both indoor and outdoor gatherings that are sure to be memorable no matter the season.
Come soak up the waterfront views on our Upper Deck. For a smaller, more intimate setting, head down to our lower deck to take in the sunshine. Visit our Beach for a casual outing to take in the beauty of the Connecticut Shoreline. As the weather cools down, our Lodge offers a private and cozy space, with a fireplace perfect for cold winter days. Wherever you are, we can promise you great drinks, delicious food, and a dining experience you won't forget."
PRIVATE PERGOLA
Capacity: Up to 30
Perfect for: Located on the upper deck, the Pergola offers slight shade, incredible views, and privacy with large picnic-style hightop tables. Perfect for birthday parties and large friend gatherings.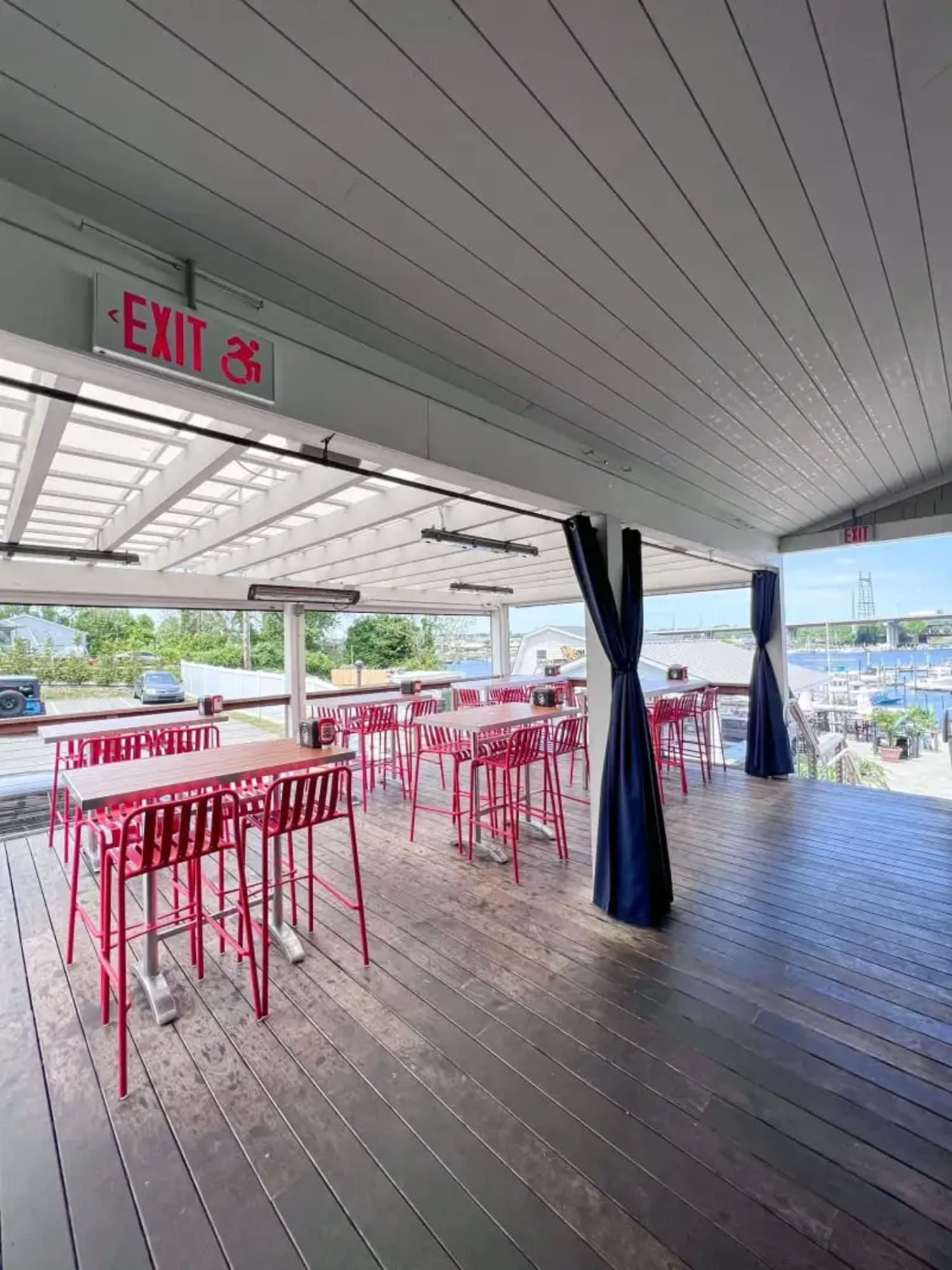 THE UPPER DECK
Capacity: Up to 88
Perfect for: Our Upper Deck is perfect for an indoor/outdoor dining experience all year round. During the summer, this covered deck offers relief from the sun while still enjoying the marina's waterfront views. The deck becomes enclosed as we transition into fall and winter, with outdoor heaters to keep warm, and TVs to enjoy your favorite sports teams.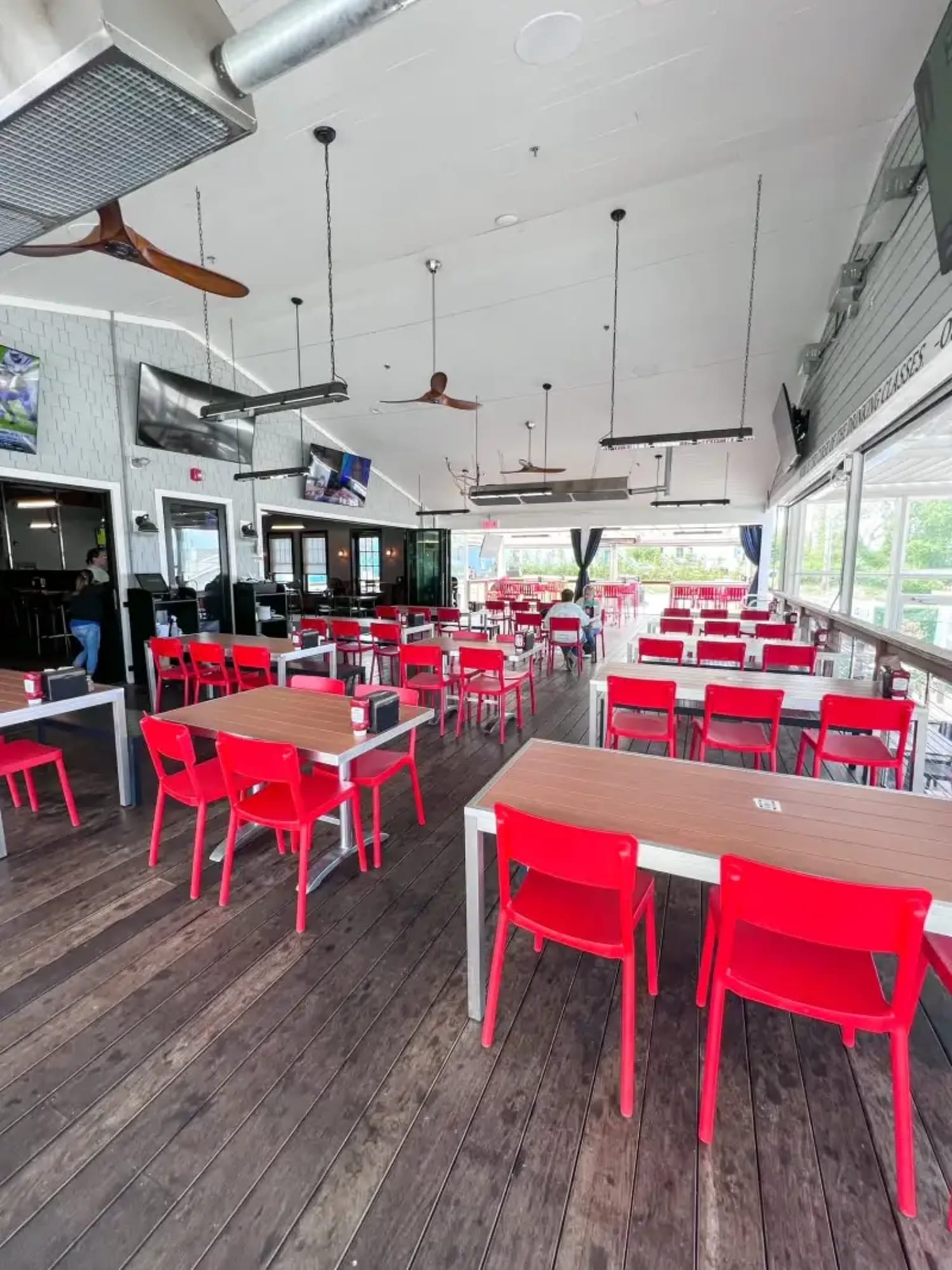 CABANAS
Perfect for: Our cabanas, located down on Juicy Beach, have the perfect view of the dock. These private cabanas are the ideal place to get your friends together for a night out, celebration, or just relaxing. Call us to reserve yours!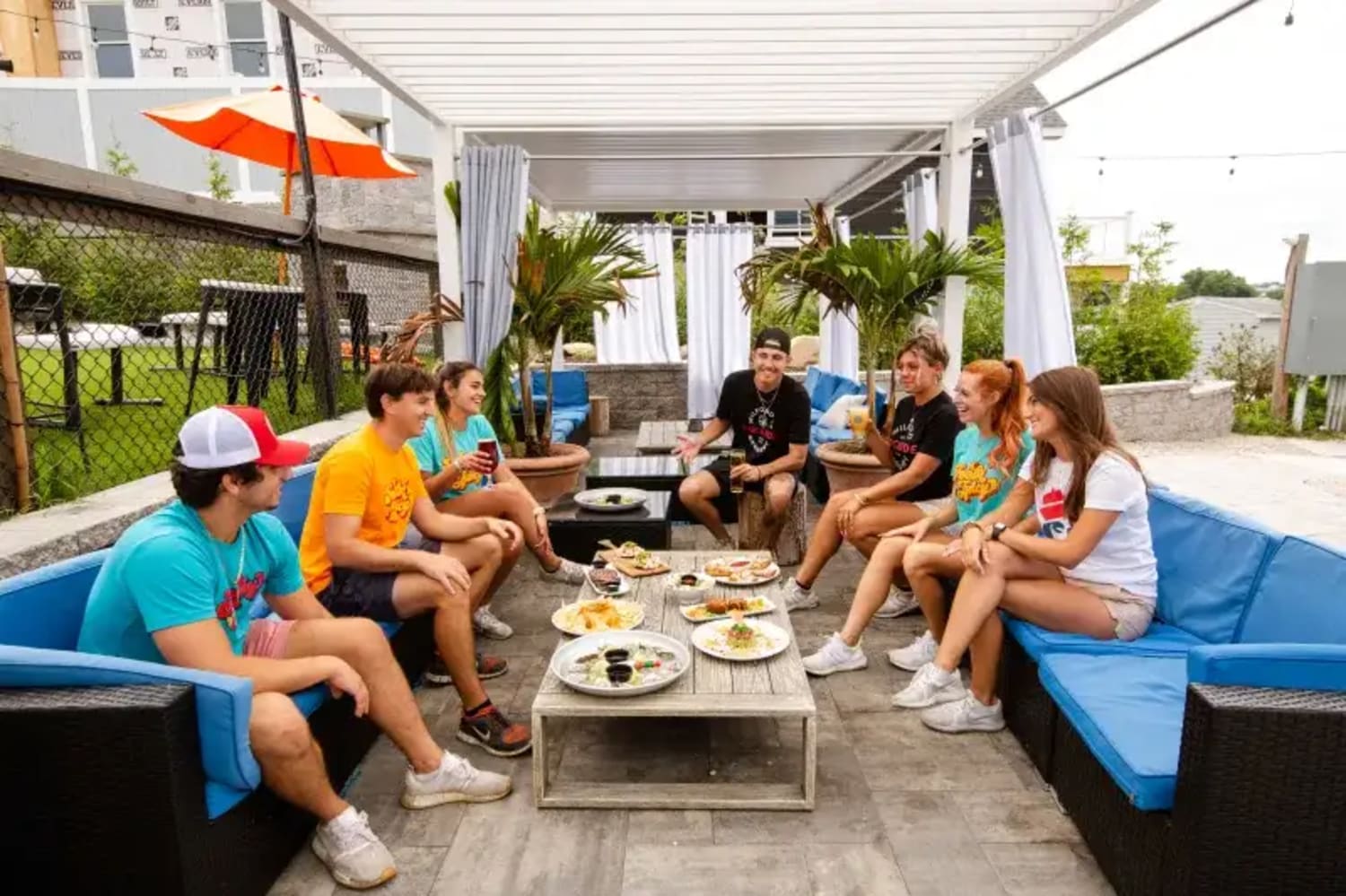 THE LOWER DECK
Capacity: Up to 44
Perfect for: Our Lower Deck is perched right above our Biergarten and offers banquette-style seating along one side and bench-style tables along the deck rail. This level provides an intimate setting for those looking to have a small gathering, as the banquette-style seating can accommodate a table for 10-12 people.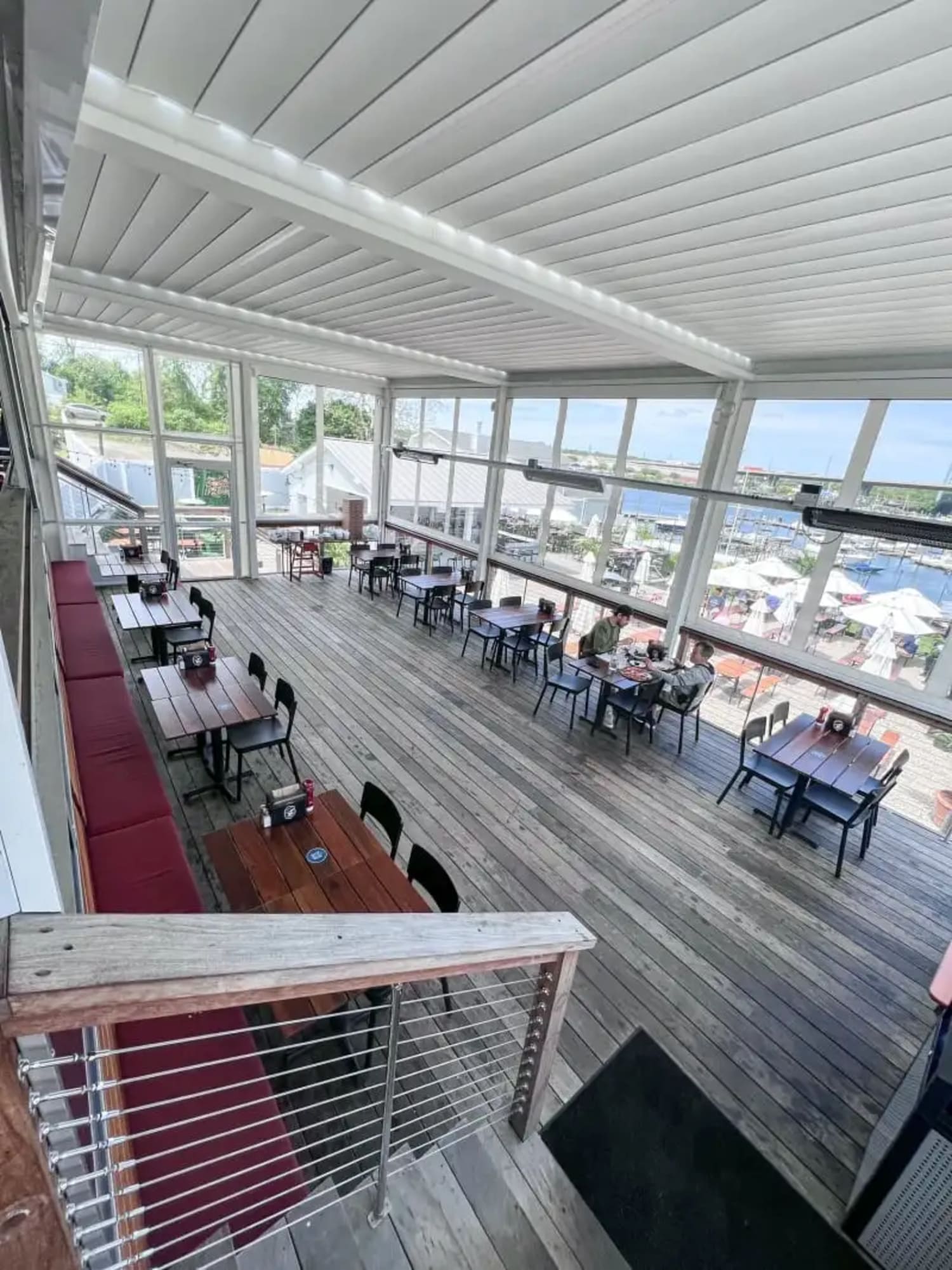 BIERGARTEN
Capacity: Up to 200
Perfect for: Our outdoor Biergarten offers a casual setting for those looking to enjoy waterfront dining. Gravel grounds, picnic tables, and umbrellas are spaced apart to accommodate families and friends.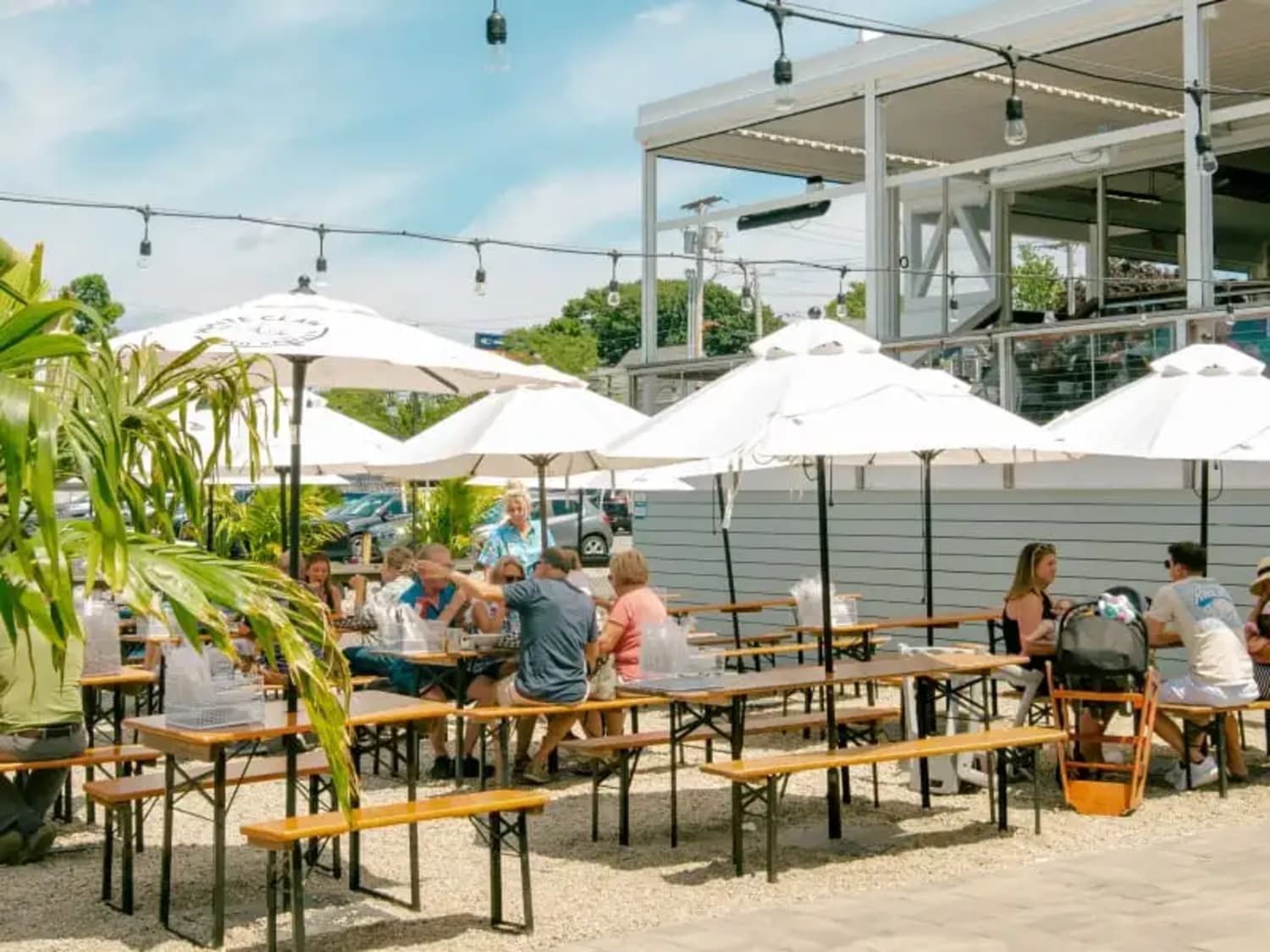 OUTDOOR BAR
Perfect for: Our outdoor bar is laid back, casual, and a great place to enjoy your favorite Dockside brew with a view of the water.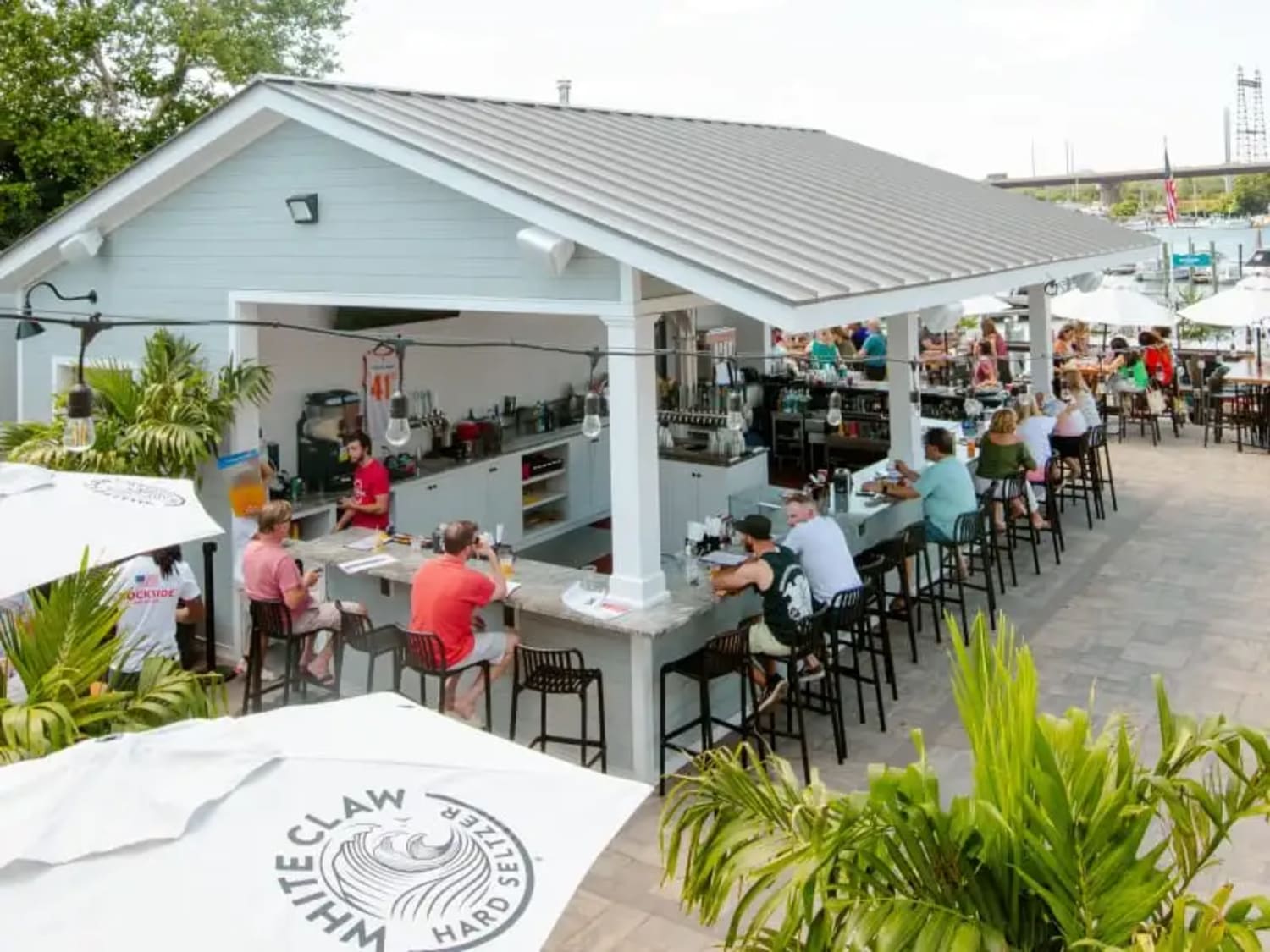 GRASSY KNOLL
Capacity: Up to 40
Perfect for: Our Grassy Knoll sits one level away from the water and offers a secluded area perfect for private parties or events. Picnic tables, adirondack chairs, and stools along our drinking rail create the ideal atmosphere for large gatherings. Guests have the option of dining at a table, or enjoying a drink overlooking the water.
JUICY BEACH
Capacity: Up to 150
Perfect for: Situated along the shoreline, our Beach level offers the perfect setting for those looking to take in the sunshine and water views. Although our full menu isn't available on this level, guests may enjoy our pizza menu and some of our canned beer, along with other canned beverages.